Ceremony held at the crest hollow country club
LEHR OF KALED NAMED NYARM 2006 PROPERTY MANAGER OF THE YEAR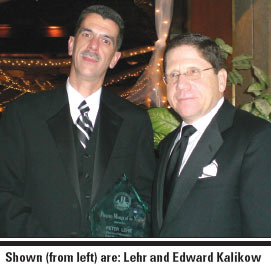 Woodbury, NY The New York Association of Realty Managers (NYARM) named Peter Lehr of Kaled Management Corp., as their 2006 Property Manager of the Year.
The NYARM awards ceremony to honor Lehr 's great achievement as well as the other recipients to this award, was held January 27th at the Crest Hollow County Club.
Lehr began his tenure at Kaled in August 1999 as a property manager of co-op/condo buildings. During his seven years at the firm, he has advanced from property manager to the director of property management.
With over 19 years of real estate experience, Lehr has taken his knowledge of the industry above and beyond the scope of general property management.
Lehr's qualifications include: BS in human resource management from Adelphi University, licensed N.Y. real estate salesperson, lead paint abatement supervisor and fire safety director.
His many roles at Kaled include overseeing all major capital improvements, renovations, supervising building staff, seeking out new properties to manage as well as board/tenant relations. Lehr has also supervised multiple building projects in excess of $10 million and handled negotiations of job bids. He works closely with architects and engineers to oversee and supervise major capital improvements full circle on privately owned and managed properties.
It is his love of the industry and desire to insure that Kaled provides its clients with quality management that sets him apart.
It is evident that his pursuit of perfection, along with his natural leadership ability was part of NYARM's decision to bestow this award upon him.