Kalikow, Waterbridge, Acquire Little Italy Multifamily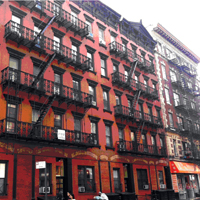 The three, five-story buildings
are located at 113-117
Elizabeth Street in Little Italy.
NEW YORK CITY -- The Kalikow Group, a Long Island-based real estate developer and manager, has made its first Manhattan acquisition in almost 20 years. The firm and its joint venture partner Waterbridge Capital has closed on a 30-unit, three-building portfolio at 113-117 Elizabeth St. in Little Italy for $12.6 million, a deal that signals the company's return to the New York market.
"Over the past 20 years, we made our mark and had our success outside of Manhattan because we believed that the real estate was being too aggressively bid up," Greg Kalikow, vice president of Kalikow Group, tells GlobeSt.com. "Now is a good time for us to get back considering that product is so scarce."
Kalikow has primarily focused on providing financing for developments in Southern markets such as North Carolina, Texas and Florida. "We used it as a vehicle to springboard into opportunities around the country and partner up with joint venture partners who had the real estate, but not the equity to put in," he says. "We have provided over $100 million of equity for apartment developments, mixed-use developments and lot development for national home builders."
But as the multifamily market continues to grow stronger throughout Lower Manhattan, the Kalikows are coming home. The JV plans to renovate the five-story buildings, improve the units and eventually bring the apartment rents to market value. "We see a lot of upside in doing so," Kalikow says. "When you purchase real estate of this nature, you assess where you can increase revenue and provide TLC to the property." He adds that each three-bedroom, 800-square-foot unit will receive kitchen and bathroom upgrades. "We believe there is tremendous room for that."
Kalikow says the buildings will be an attractive alternative to pricier neighborhoods in downtown neighborhoods like TriBeCa and Battery Park City that may not be attainable for young urban professionals. "What you have is the younger generation in their 20s and 30s that want to live in a downtown area, but they don't have the income or the means to live by themselves and pay $3,000 rent for a one-bedroom, or probably even more," he says. "To split rent three ways and pay $1,300 a month, have a legitimate bedroom and use that as an opportunity to have that downtown Manhattan address, that is something they would be more enticed by."
The apartments, located near the Grand St. subway station, will be managed by Kaled Management, the operations arm of Kalikow that manages more than 6,500 apartments in Manhattan, Brooklyn and Queens. On the transaction, Waterbridge which was represented internally by David Kessler, tied up the sale off-market and brought in Kalikow, which was represented internally by Aaron Siegel, as its partner.
Article featured in Globe Street