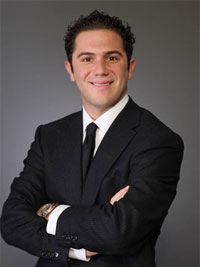 Bringing legal chops to the family business
Greg Kalikow has been named vice president of The Kalikow Group, a family-owned real estate development, investment and management firm. In his new role, Kalikow will focus on financial analysis, lease-purchase agreements, property management and new acquisition evaluation for the Westbury-based firm.
The 25-year-old Hofstra University School of Law graduate represents the fourth generation of the Kalikow family to work for the company, which was started by Kalikow's great-grandfather, Joseph, in the 1920s. Kalikow's father, Edward, is the current president and CEO.
There was never much doubt that Kalikow would join the family firm. "Since I was a little kid, I loved the brick-and-mortar aspect of the business," he said. "When I was a teenager, I was using a jackhammer, putting in bathrooms in some of the buildings."
The summer before college, Kalikow began working in the office, learning various aspects of the business.
"My father gave me dribs and drabs of different things to get my feet wet, rather than having me focus on one project, so I could see what I liked best," he said.
Kalikow decided he could best serve the company by getting a law degree. "Thirty or 40 years ago, my grandfather did deals with a handshake," he said. "Now, operating agreements and leases have gotten so complicated that it's very helpful to have a law degree."
An education was important to Kalikow for another reason. "It was something I could call my own - something that could never be taken away from me," he said. "I didn't want to use the fact that I was in this fortunate position as a reason to not get the best education that I possibly could."
His education included seeing things from the other side's point of view. While at Hofstra, Kalikow worked at the Housing Rights Clinic, a free, pro-tenant legal resource, despite the fact that his family owns and manages more than 6,000 rental, co-op, condo and homeowners' association units in the New York area.
"It's important to argue both sides of an issue," he said. "Some people only understand the landlord's point of view."
Kalikow said he and his father have different personalities, which allows them to play off each other's strengths. "My father is great at understanding the deals, but I am good at reading the people behind the deals," he said. "My father can rely on my ability to read people."