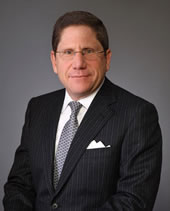 Kalikow to be Honored at Annual Benefit

Edward Kalikow, president and CEO of The Kalikow Group, will be the honoree at the ninth annual BREAKING PARkinson's Golf Outing to benefit The Michael J. Fox Foundation on Monday, September 20th at the Glen Oaks Country Club in Old Westbury, NY.

Founded in 2000, The Michael J. Fox Foundation for Parkinson's Research is dedicated to finding a cure for Parkinson's disease through an aggressively funded research agenda and to ensuring the development of improved therapies for those living with Parkinson's today. The Foundation has funded almost $196 million in research to date.

Kalikow heads up a third generation, family-owned, multi-dimensional real estate firm headquartered in Westbury, Long Island. As President and CEO, he oversees and manages the family real estate holdings comprised of approximately 2,000 rental and unsold cooperative units in the metro New York area. In addition, his management company, Kaled Management Corp., manages an additional 4,000 units of rental, cooperative, condominium and home owners association housing also located in the metro New York area. In addition to the above, Kalikow has developed rental, single family and condominium units in various projects. More recently, through the Kalikow
Group, he has raised in excess of $100 million of equity placed in various residential and commercial development joint ventures around the country with a value in excess of $850 million.
The Michael J. Fox Foundation selected Kalikow for this honor in recognition of over 25 years of dedication to the service as both Board Member and Treasurer of both the National Parkinson Foundation based in Miami, Fl and the Parkinson's Disease Foundation, Inc. based in New York. Kalikow has also been a staunch supporter of The Michael J. Fox Foundation since its inception, and an active organizer and participant in the BREAKING PARkinson's golf fund-raiser for the past nine years.

"I'm truly honored to be recognized by The Michael J. Fox Foundation in the ongoing battle to find a cure for this devastating disease," said Kalikow, whose father Sidney was afflicted with Parkinson's disease.

"Anyone who has had a family member affected by Parkinson's knows how difficult the degenerative effects of this disease can be on both the victim and their loved ones. I thank The Michael J. Fox Foundation for this recognition, and will continue my dedication to working with organizations on the front lines in the battle against this disease."
Article featured in Real Estate Weekly