Kaled to Manage MF for Institutional Owners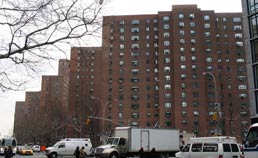 Peter Cooper Village
WESTBURY, NY - Anticipating demand from institutional owners who suddenly find themselves with the keys to rent-stabilized apartment properties, Kaled Management Co. has established a new division to serve these clients on a third-party basis. The locally-based Kaled already owns or manages nearly 6,500 rental apartments, co-ops and condominiums throughout New York City and Long Island.
"The third-party management we do today is for private owners, condos, HOAs," Edward Kalikow, president of Kaled, tells GlobeSt.com. "The new division is being set up to capitalize on what we perceive to be a need from the institutional and lender side, or private owners who have gotten burned by overly aggressive projections on rent-stabilized properties." The division, Kaled Residential Asset Management, will be led by Jordan Platt, the company's VP of operations.
In a release, Kaled says its new division will specifically serve owners of individual apartment buildings and portfolios of rent-stabilized housing "to insure the successful maintenance of the property and enhance each asset for long-term ownership or disposition." It will offer the accounting and back-office operational services, as well as on-site property management, and asset maintenance, including the planning and execution of capital improvements.
In a release, Platt says "rent stabilized housing is vital to New York, and is an asset class that will always have value if it's managed properly. There have been a number of opportunistic investors that viewed rent-stabilized housing as a treasure trove opportunity, with overly aggressive plans to destabilize the units into market-rate rentals. But we view these assets as serving an important purpose--providing work force housing to New Yorkers--and also provide an evergreen, conservative income when managed by people who know what they're doing, and how to work well with their tenants and within the confines of the complex stabilization regulations."
Kalikow tells GlobeSt.com that "there are maybe 20,000 units" in some of the larger rent-stabilized projects throughout the city "that were bought based on speculation that there would be a lot of vacancy to control and you'd be able to destabilize a lot of these units. These deals were underwritten, as a lot of the commercial deals were, based on the future rather than on reality."
He adds, "Now that the reality turns out to be a lot more painful than people had imagined, we're not expecting the securitized market and their institutional partners to call us, but we're just trying to put ourselves there and say 'we know how to make the trains run when it comes to the rent-stabilization system in New York.' We just want to put ourselves out there for people to consider." Kaled recently won the New York Association of Realty Managers' 2009 award for management company of the year.

For more information on Kaled Residential Asset Management, please contact:
Jordan Platt
Vice President of Operations
Kaled Management Corp.
Tel: 516-876-4800
jordan@kaled.com