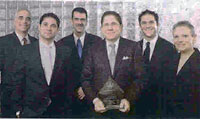 Kaled Team Accepts NYARM Award
KALED NAMED COMPANY OF THE YEAR
Kaled Management Corp. has been named Management Company of the Year by the New York Association of Realty Managers (NYARM), a leading organization of real estate and property management professionals. The award was presented at the NYARM's Annual Gala held Jan. 31 at the Marriott Marquis Hotel in Manhattan.
For over 80 years, Kaled Management has been providing superior real estate management services to an ever-growing base of highly satisfied clients. As a result, they have become a recognized leader in the property management industry, providing a comprehensive range of management services to an impressive portfolio of residential properties throughout Nassau, Suffolk, Queens, Brooklyn, Manhattan, Westchester and New Jersey.
Much has changed in the past 80 years since Joseph Kalikow founded his family real estate firm. What hasn't changed is Kaled's dedication to honesty, integrity and valuing relationships over the sole pursuit of profit. Kaled combines years of experience with the latest in property management technology to provide superior service, bringing an owner's perspective to their property management assignments.