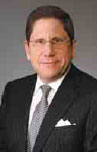 Edward Kalikow
Member Profile

Edward Kalikow
Owner & President of Kaled Management

Kaled Management, a leader in the property management field, overseeing a portfolio of more than 6,500 residential apartments in and around the boroughs of New York City, has its roots in a family real-estate business founded in the 1920's.
"I grew up in the business," says Ed Kalikow, Kaled's owner and president. "I used to follow my father to construction sites and worked on jobs in the summer as a laborer to get hands-on experience."
After graduating from Syracuse University School of Management and then Hofstra Law School, in 1978 Kalikow joined his father, Sidney, in managing a small portfolio of properties, as well as building, rehabilitating and converting residential properties in Flushing and Bayside, Queens and Great Neck Long Island.
Through the 1980s, the business expanded its management services, and then in the early 1990s, after his father passed away, Kalikow began investing in property development throughout the country. "We found a niche of developers in strong growth markets who were good developers but equity poor," he recalls. "We leveraged our expertise and money into a lot of diverse markets, under the theory that you don't want to have your eggs all in one basket."
"It was a very good run for us," he adds, "We raised about $100 million in private equity and funneled in out into 30-plus projects in Florida, Raleigh-Durham, Houston, San Antonio and shopping centers in Staten Island and Connecticut."
While Kalikow still invests in new development here and there -- he's got a multi-use project in the works in Carey, North Carolina -- Kaled is primarily a management company today. In the last several years, the company, says Kalikow, "has tried to bring the perspective of owner/management to third parties," a formula that has helped to grow its management portfolio to include more than 63 buildings.
"We manage everybody's property as if we own it," says Kalikow, a task facilitated by new technology. "We can remotely read the operations of your boilers from our laptops, for example. I'm able to sit home and know how many times the boiler is cycling."
Not that he doesn't still get out in the field. "Our supers know that I can pop up at any time -- ten o'clock at night or on a Saturday morning. I'm famous for that. It keeps them on their toes. Everything should look right 100 percent of the time."
As a result of his and his team's fastidiousness, says Kalikow, "we've established a sophisticated clientele -- institutions or third parties that were tired of the empty promises given them and want someone who knows how to operate and work in this environment. There's a lot of business we don't get because we won't compromise our standards for any price."
An ABO member since he started in the real estate business -- "I used to go to the meetings with my dad," he recalls -- Kalikow is active in several foundations and charities.
In honor of his father, he started the Sidney Kalikow Endowed Scholarship Fund at Hofstra Law School, where his son Gregory is in his second year; he is active with the United Jewish Appeal and Shalva, an organization that works with special needs children in Jerusalem; and he has been supporting and serving on foundation boards for the Parkinson's Disease community for 25 years.
Kalikow presently site on the planning board of the village of Old Wesbury, where he resides. "It's an opportunity," he says, "for a developer to see things from the other side of the table."
Article featured in ABO Developments
Associated Builders & Owners of Greater New York, Inc.