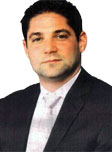 Jordan Platt
VP Operations
Kaled Management
Profile - JORDAN PLATT, Vice President of Operations
Kaled Management Corp.

AT FAMILY FIRM, PLATT HAS BIG SHOES TO FILL

By Linda 0' Flanagan

Jordan Platt, vice president of operations for Kaled Management Corp., always knew he would work in the real estate field. Even though he grew up in one of New York's prominent real estate families, he felt it necessary to learn every aspect of the industry from the ground up before taking a management position at the family firm.
Platt is the nephew of Edward Kalikow, who runs and operates Kaled Management Corp. At age 30, Platt represents the fourth generation of the family-run business.
"Even when I was really young I remember watching my grandfather Sidney Kalikow (founder of Kaled)," he said. "'He was a very influential part of who I am. Even though my grandfather passed away 19 years ago, I still go out to our buildings today and tenants, employees and contractors tell me what a great guy he was. It's nice to know that not only do I have a career, but a connection to the past."
Platt believes his family's legacy is its best asset. "My professional success is attributed to my uncle's guidance," Plan said. "I am getting the same direction from him as he got from his father and his father before him."
But it was no free ride for Platt. "I got a very old-school education, which is driven by relationships and hands on training." said Platt. "I first started in the business training under the building staff, with the supers, the maintenance guys. I was mentored by a property manager, and later by personnel in the repairs and maintenance division. Basically, I learned every job function in the building."
Before coming onboard as vice president at Kaled in 2002, Platt worked for two other companies to further broaden his knowledge base. Working for Douglaston Development he served as a development coordinator. Previous to that, Platt worked for Corcoran Wexler Healthcare Properties; a division of the Corcoran Group, where he specialized in medical office sales and leasing.
"Prior to joining my uncle these experiences proved invaluable," said Platt. "It was great to learn the ins and outs of the business from such diverse companies, each exposing me to a different perspective. While it's nice to have family to work for, if you haven't worked for anyone else you would have a very narrow-minded view of the real estate business and its intricacies."
Now, several years later after joining the family firm, Platt oversees the day-to-day operations of all the Kalikow Family owned rental buildings consisting of 18 buildings with 2,000 units.
Along with overseeing operations for the entire company, Platt is also spearheading Kaled Residential Asset Management, a new division that specifically serves owners of individual apartment buildings and portfolios of rent-stabilized housing to insure the successful maintenance of the property and enhance each asset for long-term ownership or disposition. The division offers accounting and back-office operational services, as well as on·site property management and asset maintenance, including the planning and execution of capital improvements.
"Rent stabilized housing is vital to New York and is an asset class that will always have value if it's managed properly," Platt said. '''There have been a number of opportunistic investors that viewed rent·stabilized housing as a treasure trove opportunity, with overly aggressive plans to destabilize the units into market-rate rentals. But we view these assets as serving an important purpose - providing work force housing to New Yorkers - and also provide an evergreen, conservative income when managed by people who know what they're doing and how to work well with their tenants and within the confines of the complex stabilization regulations."
Platt is heading up the division's new Midtown Manhattan office at 757 Third Avenue as well. "The opening of our new Manhattan office is further evidence of Kaled's commitment to applying our vast experience in residential asset management to help institutional and private owners both profit from this unique market niche and help preserve affordable housing options for the working class," he said. "Kaled brings an owner's perspective to property management, with a keen focus on the bottom line as well as maintaining properties at the highest level to enhance value year after year."
Platt's extensive real estate management experience has led him to be elected to the board of directors for the Rent Stabilization Association (RSA), the largest trade association in New York City that represents one million units of rent stabilized housing. Platt also is an executive board member for the Community Housing Improvement Program (CHIP), a real estate trade organization representing more than 2,500 apartment building owners.
Platt received a Bachelor's Degree in Consumer Education from Syracuse University, School of Human Development. Platt continues to build on his education and he suggests that anyone wanting to be a success in the business should do the same.
"Real Estate is not an industry where you can get complacent," Platt said. '1 take as many classes and seminars as I can fit into my schedule. I attend luncheons and networking events to talk to people. The real estate business changes from day to day. It's ever evolving and you have to stay on top of it."
Many changes have occurred between the time Platt's grandfather started the business in the 1920s and today. Platt is reminded on a daily basis that his grandfather's work still lives on.
"I am part of that legacy that he left behind." he said. "It's very important for me to keep his name and honor his traditions going forward."
Article featured in Brokers Weekly
Wednesday, August 19, 2009